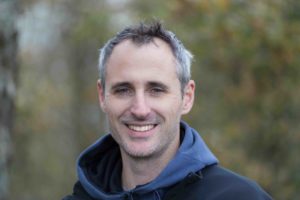 Natif de l'Ile d'Oléron, Thierry Bonnaudet a grandi dans le milieu ostréicole, ce qui lui a permis de nouer un rapport privilégié avec l'univers maritime. Petit déjà, ce « p'tit gars de la côte » comme on le surnommait s'amusait à photographier sur le sable ce que son regard lui dictait.
Autodidacte, il a fait évoluer ce jeu en une passion. Aujourd'hui photographe professionnel, il se veut être un témoin de l'instant. Admiratif de la nature, il cherche à saisir la photo juste, celle qui saura témoigner de l'émotion ressentie.
A la base enseignant, il a su mettre a profit sa pédagogie dans la formation lors de stages et de voyages photographiques. Il est également créateur de tutoriels vidéos sur le post-traitement disponibles sur internet.
Admiratif et sans cesse émerveillé par la beauté de la nature qu'il explore, Thierry n'en oublie pas pour autant la devise qui l'accompagne à chaque voyage:
« Eliminer le superflu, voir l'essentiel »
Membre actif du Festival Photographique de Moncoutant sur Sèvre, il s'efforce de mettre en lumière le talent d'autres photographes.
Son travail est représenté par l'Agence photo Naturimages.
English version
A native of the Island of Oléron, Thierry Bonnaudet grew up in oyster farming, which enabled him to establish a privileged relationship with the maritime world. Small already, this « little guy of the coast » as he was called amused to photograph on the sand what his eyes dictated to him.
Self-taught, he has evolved this game into a passion. Today professional photographer, he wants to be a witness of the moment. Admirative of nature, he tries to grasp the right picture, the one that will testify to the emotion felt.
On the teaching base, he knew how to put has profit its pedagogy in the formation during internships and during photographic journeys. He is also creative of tutoriels videos on the post-treatment available on the Internet.
Admiring and ceaselessly amazed by the beauty of the nature which he explores, Thierry does not forget for all that the currency which accompanies him in every journey:
 » Eliminate the non-essentials, see the main part « 
An active member of the Photographic Festival of Moncoutant sur Sèvre, he endeavors to highlight the talent of other photographers.
His work is represented by the Naturimages photo agency.
Retrouvez moi sur les réseaux sociaux